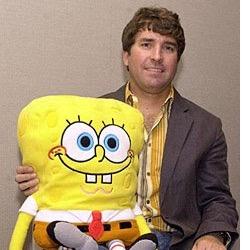 In these hectic days, even if you only have minutes, I have reading suggestions!
The December 18 & 25 issue of The New Yorker contains a two-column theater review of SpongeBob SquarePants the musical. No kidding: THAT SpongeBob SquarePants, who debuted in 1999 and, as Tommy Smothers might say, took the storm by country.
The play has all the pun-intended characters, from Mr. Krabs to Squidward Q. Tentacles. It has songs by Cindi Lauper, They Might Be Giants, and others.
The review is lively, well-written, and very positive. Read the review even if you have no intention of hieing off to NYC any time soon.
If you're a more literary type, sample a little Charles Simic. Simic immigrated from Belgrade in 1954 and started publishing poetry in his twenties. He's won tons of awards, including a Pulitzer. He served as Poet Laureate of the United States in 2008 and 2009.
This book contains nearly 400 poems spanning fifty years, including about three dozen revisions and seventeen previously unpunished poems. Simic is witty, broad-ranging, and fresh. He can enthrall you for as many minutes—or hours—as you can spare.

What if you have time for nothing but assuring that you acquit yourself well throughout all the celebrations? Sarah Chrisman to the rescue!

Many of the issues people faced in the 1880s and '90s are surprisingly modern as well: invasion of privacy, divorce, dealing with people from other places or cultures, technologies developing at mind-boggling speed…

For your convenience, advice is organized by topic. You will find sound guidance, such as telling husbands to give their wives (one at a time, please) every advantage it is possible to bestow, and—as far as possible—to patronize merchants of their own town.
BONUS: There are watercolors and illustrations throughout.
If you are introspective and/or looking for inspiration, Mark Nepo's got you covered.
Nepo is a poet and teacher, and—by the way—a New York Times Bestseller.

Oprah Winfrey, among others, recommends this book. It contains 366 dated entries, including one for February 29th. Each begins with a brief quote, followed by author's reflections to inspire your own musings.
However, there is also a subject index with multiple entries under such headings as sadnesses, truth, and quiet teachers.
FYI, here is the beginning of the entry for today.
Even though time is short, happy reading!